Hedgehog Awareness Week 2017
Hedgehog Awareness Week runs from 30th April to 6th May 2017 and hedgehoggy events are being organised all around the country already!
Hedgehog Awareness Week is organised by the British Hedgehog Preservation Society and takes place every year.  It aims to highlight the problems hedgehogs face and how you can help them.
This year efforts are focussed on our strimmer campaign.  We have produced water proof stickers that we are sending to councils, tool hire companies, grounds maintenance teams, etc free of charge on request (email info@britishhedgehogs.org.uk).  The stickers remind operatives to check areas for hedgehogs before using any machinery.  Once the group have received the stickers and sent us a pic of them in action, we can add them to our Hedgehog Heroes Roll of Honour!  See https://www.britishhedgehogs.org.uk/hedgehog-heroes-roll-honour/

As well as checking areas before cutting there are other things we can do to help too:
Ensure there is hedgehog access in your garden – a 13cm x 13cm gap in boundary fences and walls.

Move piles of rubbish to a new site before burning it.

Ensure netting is kept at a safe height.

Check compost heaps before digging the fork in.

Stop or reduce the amount of pesticides and poisons used.

Cover drains or deep holes.

Ensure there is an easy route out of ponds and pools.
BHPS Chief Executive, Fay Vass, said "We are asking people to pledge to do at least one positive thing for hedgehogs during the week and if possible let us know, send us pictures of the hedgehog hole or home you create, or from the event you organise!"
Here are a few more ideas of how you can get involved:
Contact your local council or tool hire shop and ask if they will use the free stickers from BHPS on their machines – ask them to email us direct on

info@britishhedgehogs.org.uk

Organise an event such as a cake sale, fun day, sponsored event, coffee morning or jumble sale.

]

Display information (BHPS can provide) in your work place or local Garden Centre, School, Library, shop, etc.

Contact your local newspaper or radio station a few weeks before Hedgehog Awareness Week and ask them to help hedgehogs by printing a letter from BHPS (we can provide a letter to the editor on request) or by arranging an interview with us during the week (ask them to call 01584 890 801 to book a slot).

Post leaflets in your area letting people know how they can help hedgehogs (BHPS can provide leaflets).

Take a selfie with our #hedgehogweek sign (click here for printable copy)  and send it out via social media during the week.  Remember to tag us on Twitter @hedgehogsociety and use #hedgehogweek
If you are organising an event, PLEASE let BHPS know as soon as possible so that we can keep a comprehensive list of events across the country. We often get calls from the media and public asking for local events and if we don't know about your event we can't point them in your direction.
We are hoping to raise £2,000 during Hedgehog Awareness Week 2017, texting HHOG17 £5 to 70070 will donate £5 to this appeal. (You can change amount to £1, £2, £3, £4, or £10 to donate those amounts).
To donate to our Hedgehog Awareness Week campaign online please click https://www.justgiving.com/campaigns/charity/bhps/haw17
Leaflets and posters are available on our website or we can post copies out on request.
Click here to download the Hedgehog Awareness Poster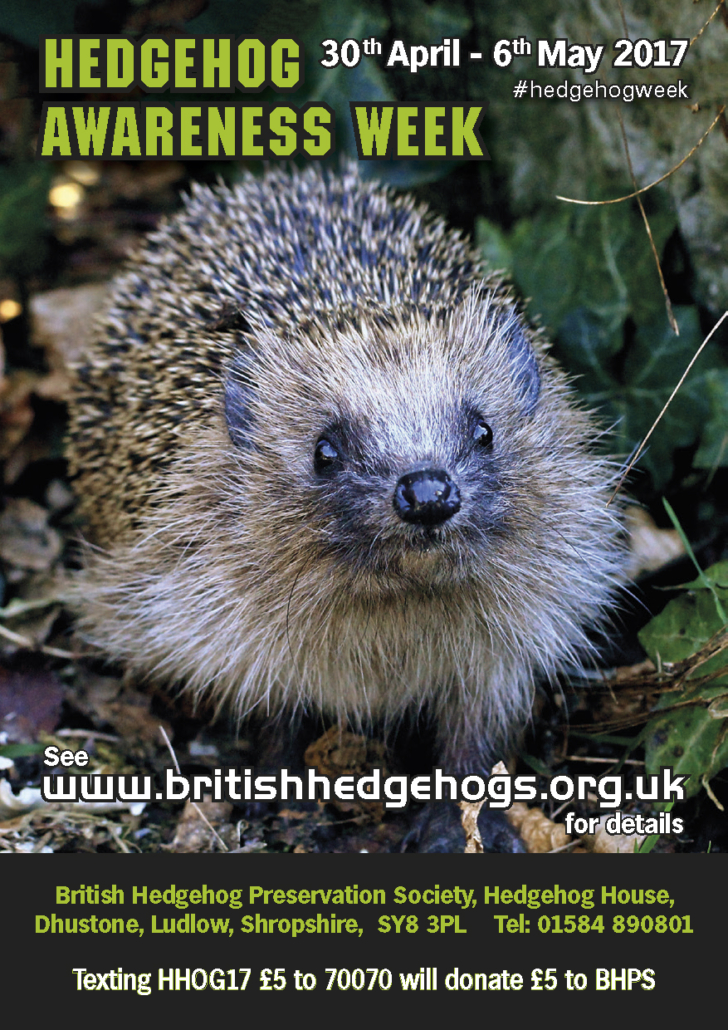 Hedgehog Awareness Week Events 2017
https://www.britishhedgehogs.org.uk/wp-content/uploads/2017/01/hedgehog-awareness-week-share-1.jpg
630
1200
andy
https://www.britishhedgehogs.org.uk/wp-content/uploads/2017/08/header.jpg
andy
2017-05-01 08:39:58
2017-05-02 08:22:56
Hedgehog Awareness Week 2017