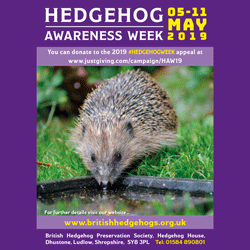 Hedgehog Awareness Week runs from 5th – 11th May 2019 and hedgehoggy events are being organised all around the country!
Hedgehog Awareness Week is organised by the British Hedgehog Preservation Society (BHPS) and takes place every year.  It aims to highlight the problems hedgehogs face and how you can help them. This year the Charity is asking people to make a space for hedgehogs to live in their garden, this could be in the form of a log pile or wild area (that will also provide a buffet of creepy crawlies) or a more formal hedgehog home.  The Society has a free downloadable plan for building a hedgehog home on their website (www.britishhedgehogs.org.uk/hedgehog-homes). 
There are many other simple things we can all do to help hedgehogs:
Make sure there are CD case sized gaps in boundary fences and walls to allow easy passage.
Move piles of rubbish to a new site before burning it.
Check areas carefully before mowing or strimming.
Ensure netting is kept at a safe height.
Check compost heaps before digging the fork in.
Stop or reduce the amount of pesticides and poisons used.
Cover drains or deep holes.
Ensure there is an easy route out of ponds & pools.
BHPS Chief Executive, Fay Vass, said "We would love to see what you have done for Hedgehogs during the week.  Send us pictures of the from the event you organise or of the hedgehog space you create, and if you are on social media do use #hedgehogweek! It's a great excuse to get the kids away from their screens and out in to the garden, get them to create a sign declaring your garden a Hedgehog Friendly Space or maybe a name plaque for the hedgehog home!"
BHPS is hoping to raise £1,000 during Hedgehog Awareness Week 2019, You can donate to the 2019 #hedgehogweek appeal at www.justgiving.com/campaign/HAW19
Leaflets and posters are available on the Charity's website www.britishhedgehogs.org.uk or they can post copies out on request.
---
Download a copy of the HAW 2019 poster by clicking below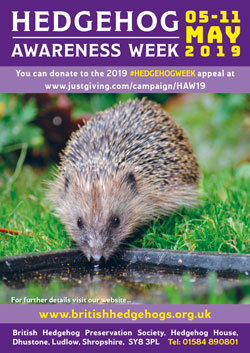 ---
HEDGEHOG AWARENESS WEEK EVENTS
CAMBRIDGESHIRE
Wild Weekend. Saturday 11th May
1-4pm Stalls, crafts, refreshments, birds of prey. St Andrew's Church, Soham. Free entry.
Denbighshire
Thursday 9th May
Talk, power point presentation and raffle; Ffrith fun park. 7pm.
Address: Ffrith Bowling, FFrith Beach, Victoria Road West, Prestatyn, LL19 7AR
Hedgehog care power point presentation. Thursday 9th May at 7pm.
As part of British Hedgehog Preservation Society, Hedgehog week, I'm showing a power point presentation on basic hedgehog care and how you can help wild hedgehogs. This is a FREE event with optional donations and a raffle.
Saturday 11th May
Litter pick Rhyl Botanical garden. 12.00 – 13.00
Litter pick for Hedgehog week. Rhyl Botanical gardens, 98 Grange Rd, Rhyl LL18 4DA
Equipment provided.


DEVON
Assorted Events at Westmoor Veterinary Hospital. Brook Lane, Tavistock, Devon
7th to 11th May – Raffle, craft and cake sales from
7th May – Sponsored cycle ride (on bicycle machine) in hospital reception
8th May – Carwash in hospital carpark for veterinary clients
10th May – raffle draw
Contact Llinos Botwood. Tel: 01822 612561
DORSET
Picnic in the Park. Saturday 4th May. Radipole Gardens, Weymouth. 11am to 3pm. Free event. Nature activities including Hayley's Hedgehog Rescue.
EAST YORKSHIRE
Stall at Driffield Market on 9th May. Venue: Outside Buck pub in Driffield from 9am to 4pm. Contact Jane Neville.
ESSEX
Hedgehog Day at North Weald for 4-11 year olds. Hedgehog games and advice on hedgehog friendly gardening. £3 per child – booking essential. Call 01992 564224.
Wildlife Event. 11 and 12th May from 12 -2:30. At RHS Hyde Hall. Hedgehog Haven teaching children how to spot signs of hedgehogs in the garden and how to help them.
GLOUCESTERSHIRE
The Prickly Picnic Party with food, music (DJ Bob) and hedgehog talks. Venue: Assembly Rooms, St Briavels, Gloucestershire. Date: 11th May. 7pm until late. Admission cost: £15 (includes food).
Contact Details: Hobo's Hedgehog Rescue –
e-mail hoboshedgehogrescue@gmail.com  07922 176767 or 07977 171743.
Hampshire
Saturday 11th May – New Milton Hedgehog Rescue will be at Redcliffe Garden Centre, Bashley Rd, New Milton, BH25 5RY to promote hog awareness from 10am to 4pm.
LANCASHIRE
Hedgehog Friendly Campus Launch Event. 8th May 11:30-14:30 at Lancaster Environment Centre Atrium at Lancaster Uni. Free entry. Contact: hedgehogfriendlycampus@lancaster.ac.uk
LONDON
Talk. Hugh Warwick is giving a talk on hedgehogs for Bromley Local RSPB group. Venue: United Reformed Church, Widmore Rd, Bromley BR1 1RY. Admission: £3.50. Date: 8th May 7-9pm. Contact: bromleyrspb@gmail.com or 07392 790719
NORTH YORKSHIRE
Hedgehog Talk by Ripon Hedgehog Rescue. Bishop Monkton Village Hall. Date: 8th May 7:30-9pm. Entry by donation. Contact Helen Bagnall on 07841 629431
SUFFOLK
Hedgehog Workshop. Wednesday 8th May at Long Melford Country Park at 2pm (or at Long Melford Primary School if wet, but then it will only be for the school children).
Hundon WI Talk. Thursday 9th May. Hundon Village Hall, North Street, Hundon CO10 8EE at 8pm. Cost £3.50 – contact 0781 847 8770
Afternoon Café with leaflets, quiz and colouring in for children. 2:30pm at Hundon Village Hall
– contact 0781 847 8770
WARWICKSHIRE
Ecofest 2019 – Hedgehog stand with information and children's activity. Pump Room Gardens, Leamington Spa. Date 5th May 10am to 4pm. Free Entry.
WEST MIDLANDS
Hedgehog Friendly Campus Launch Event. Bake sales Wednesday 8th May 11-12:30 IBR Common Room, University of Birmingham. Win a Wildlife Goodie Bag.
https://www.britishhedgehogs.org.uk/wp-content/uploads/2019/02/haw-feature.png
250
250
andy
https://www.britishhedgehogs.org.uk/wp-content/uploads/2017/08/header.jpg
andy
2019-02-01 09:17:55
2019-05-08 10:24:45
Hedgehog Awareness Week 5th - 11th May, 2019