A project run by Wild Hogs Hedgehog Rescue in partnership with Making Pi and supported by the British Hedgehog Preservation Society is helping to monitor rehabilitated hedgehogs as they are returned to the wild following successful rehabilitation at the rescue.
Hedgehog Republic has ten intelligent feeding stations operating across two locations in Gloucestershire. The first area, Kingsway, is a large suburb of Gloucester city and has a good resident population of hedgehogs. The second area, Severnside, is a rural area consisting of smaller villages where hedgehogs are known to be active.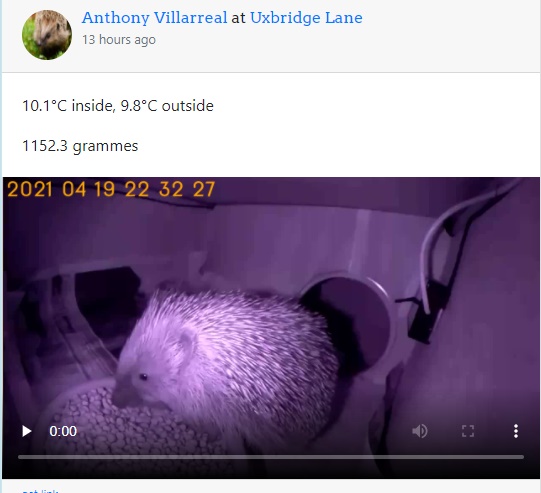 Wild Hogs Hedgehog Rescue has been microchipping hedgehogs on release for the past four years. This has provided useful information when hedgehogs return to the rescue. However, the new feeding stations can scan microchips on hedgehogs that have been released in the wild. This information allows the rescue to monitor releases in the area and view videos of the hogs to monitor their health without disturbing the hedgehogs. Built-in weighing scales give an estimate of the hedgehog's weight and the microchip scanner allows individual hogs to be identified.
Wild Hogs Hedgehog Rescue Assistant Manager, Emily Harper said "The new technology is giving us unprecedented information to monitor how successful the hedgehogs are once we release them back to the wild. We have detected hedgehogs that were released in 2019 that are still doing well and have maintained a healthy weight. We have also been able to monitor others that have been injured or appear unwell and follow their progress. This will help us to improve rehabilitation and understand more about how hedgehogs adapt when they are returned to the wild".
The project has been funded by the British Hedgehog Preservation Society and Chief Executive Fay Vass said "This project has enabled us to see the potential benefits of micro-chips as a way of monitoring rehabilitated hedgehogs post-release. We are also able to compare the different behaviours of hedgehogs in suburban and rural gardens. This is important as we know that hedgehogs have been declining more in rural areas and we are keen to understand if rural gardens could provide support for hedgehogs in the same way that we have seen in suburban gardens"
The video footage is available online for everyone to access at http://kingsway.hedgehogrepublic.org/ and http://severnside.hedgehogrepublic.org/
https://www.britishhedgehogs.org.uk/wp-content/uploads/2021/04/microchipped-hog.jpg
493
541
Andy
https://www.britishhedgehogs.org.uk/wp-content/uploads/2017/08/header.jpg
Andy
2021-04-20 17:05:59
2021-04-20 17:14:53
Monitoring Rehabilitated Hedgehogs